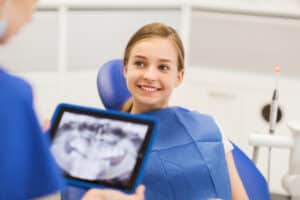 Dental technology has allowed dental practices all over the world to be able to provide even better care for their patients than before. Here at Montgomery Pediatric Dentistry in Princeton, New Jersey, has been using dental X-Rays for years to help catch early on dental issues.
X-Rays for Kids
Specializing in pediatric or child dentistry, every member of our team is highly knowledgeable and trained on X-Rays. As you may know, we suggest that our patients come into our office twice a year for a professional deep cleaning and an examination from our dentist. A part of this overall visit and something that helps the dentist examine the teeth thoroughly are the dental X-Rays we take.
To take the X-Ray, we use an X-Ray sensor that we strategically place into your child's mouth. This sensor along with the "X-Ray camera" that we use, works together to take a picture of the teeth, gums, and all other oral structures of your child. Once the photos are taken, they appear digitally onto a screen where the dentist can carefully examine them and refer back to them while looking in your child's mouth.
Benefits of Dental X-Rays
X-Rays aren't only beneficial for pediatric care, they are used all over the dental world. Many people have some questions and even concerns about the safety of X-Rays. We can assure you that in our office, the X-Ray machines are safe for your children and we take extra measures to ensure safety.
There are major benefits to taking X-Rays for your child, including: 
X-Rays allow our pediatric dentist to see when new adult teeth will be erupting
Being all about prevention dentistry, X-Rays help us to spot little, harmless issues that could cause damage
Helping maintain overall oral health due to all that the dentist can see in just one image
Dental X-rays in Princeton
We strongly encourage our patients at Montgomery Pediatric Dentistry in Princeton, New Jersey to take advantage of this dental X-Ray technology to benefit children's oral health. Having questions about how dental X-Rays work is completely normal and we are ready and willing to answer any you may have.